---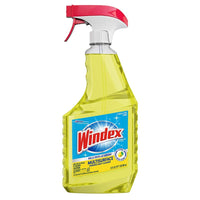 Multisurface Disinfectant Cleaner - Citrus Fresh Scent
Windex · Spray · Disinfectant · Degreaser
Citrus Fresh Scent
23 oz. Spray Bottle

Keep surfaces sparkling clean and sanitary with one versatile cleaning solution. Windex multisurface spray helps you maintain a healthy space. Multi-surface disinfects and removes grease and grime while leaving behind a streak-free shine. Ideal for use on ceramics, enamel, fiberglass, finished/sealed wood, glass, laminates, metal, plaster, plastic, sealed/engineered stone and vinyl.
Effective against a wide variety of contaminants. Includes bacteria, dust, food stains, fungus, germs, grime, mildew, mold, oil-based soil, organic matter and water-based soil. Spray bottle enables fast, easy application. Lemon scent leaves behind a pleasant, citrus aroma. Antibacterial formula quickly kills 99.9% of bacteria from hard, nonporous surfaces.
Sanitizes in just 10 seconds and disinfects in only 5 minutes.